Joseph the Huron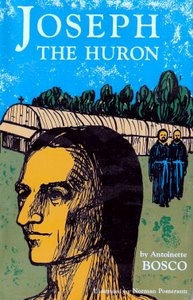 By ANTOINETTE BOSCO
Illustrated by Norman Pomerantz

P. J. Kenedy & Sons, New York
---
NihilObstat: RAYMOND T. POWERS, S.T.D. Censor Deputatus
Imprimatur: FRANCIS CARDINAL SPELLMAN Archbishop of New York
New York August 21,1961
The nihil obstat and imprimatur are official declarations that a book of pamphlet is free of doctrinal or moral error. No implication is contained therein that those who have granted the nihil obstat and imprimatur agree with the contents, opinions or statements expressed.
Copyright © 1961 by P. J. Kenedy & Sons Library of Congress Catalogue Card Number: 61-15564
PRINTED IN THE UNITED STATES OF AMERICA
HTML Edition Copyright © 1998, 2001
by Antoinette Bosco and R. van Valkenburg
---
Dedicated to
the Reverend Francis X. Talbot, S.J., of beloved memory, who first hoped that the story of Joseph Chiwatenwa would be made known.
---
Author's Note
It was Julie Kernan, editor of American Background Books, who first introduced me to Joseph Chiwatenwa. Her friend. Father Francis X. Talbot, S.J. had talked about "an Indian named Joseph," converted by the Jesuits, who lived a fascinating story. Father Talbot hoped to write a book about Joseph, but he died before this could be done.
With the help of Father James Somerville, S.J., chairman of the Philosophy Department of Fordham University, I obtained volumes of the Jesuit Relations, and began to study the history of the seventeenth-century North American Jesuit missions, gleaning the story of Joseph Chiwatenwa's life from these Relations, or letters which the missionaries wrote and sent back to their superiors in France.
For his help in obtaining research materials, I now publicly thank my friend Father Somerville.
In addition to the Jesuit Relations, mainly volumes 15 to 21, the Encyclopedia Americana, and reference books on Indian history from the shelves of the New York State Library in Albany, N. Y. the following books were also helpful in my research: Saint Among the Hurons, F. X. Talbot, S.J. Harper & Bros., New York, 1949; Sainte-Marie Among the Hurons, Wilfrid and Elsie Jury, Oxford University Press, Toronto, 1954; Saint Among Savages, F. X. Talbot, S.J. Harper & Bros., New York, 1935; Les Relations de ce qui s'est passe au pays des Hurons (1635-1648), St. Jean de Brébeuf; Jesuit and Savage in New France, John H. Kennedy, Yale University Press, New Haven, 1950; Donjon of Demons, B. Fitzpatrick, Henry Holt & Co., New York, 1930; The Jesuits in History, Martin P. Harney, S.J. America Press, New York, 1941. A.B.
Principal Persons and Places
Indians:

CHIWATENWA, Huron brave who took the Christian name of Joseph

TEONDECHOREN, Chiwatenwa's older brother

SAOEKBATA, another brother of Chiwatenwa who became the Christian Peter

AONETTA, wife of Chiwatenwa, baptized Marie

TSONDIHWANE, elderly Indian of Ossosane, whose Christian name was Rene

ONDIHORREA, a chief of the Cord nation of the Hurons

AOCHIATI, first Christian of the Cord nation, baptized Matthias

ONONKWAIA, Oneida chief captured by the Hurons
Jesuit missionaries:

FATHER JEAN DE Brébeuf, known as Echon by the Indians

FATHER ISAAC JOGUES, whose Indian name was Ondessonk

FATHER JEROME LALEMENT, successor to Father de Brébeuf as superior of Huron mission

FATHER FRANCOIS LE MERCIER, another missionary to the Hurons

FATHER PIERRE CHASTELLAIN, missionary called Arioo by the Indians

ROBERT LE COQ, Jesuit oblate or donne
Huron villages:

IHONATIRIA, site of first Jesuit residence with Hurons

OSSOSANE, capital village of Bear nation
---